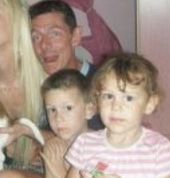 A father drove two of his children into a river after telling their mother: 'You've got ten seconds to say goodbye to your kids and then they are dead,' a court heard yesterday.
Christopher Grady issued the chilling threat after turning up at Kim Smith's door with Ryan, six, and Gabrielle, five, in the car, the jury was told.
As she made a frantic grab at the car door to get them out, he sped off with the children screaming in the back seat.
Witnesses watched in horror as he drove the car at full speed into the freezing water, the court heard.
Ryan was rescued, but Gabrielle was pronounced dead in hospital after firemen fought for two hours to rescue her from the sinking car.
Grady, a self-employed welder and blacksmith, who was separated from Miss Smith, 39, had been arguing with her about seeing the children, the court heard.
He was alleged to have previously told her: 'If I can't have them, you can't.'