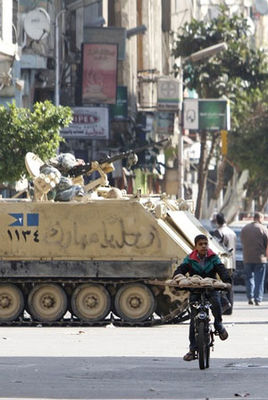 Authorities respond to growing fears of shortages; Egypt still had sufficient stocks of food, cash and fuel.
There is no money at the banks. Fuel is scarce. Tourism is evaporating.
As a popular uprising to oust President Hosni Mubark enters its second week, Egyptians are feeling the economic pinch.
Banks have been shut since Sunday, and they remained so on Tuesday, the day that protesters hope will see a million-strong demonstration in Cairo to demand an end to Mubarak's regime.
Many automatic teller machines (ATM) in the teeming capital have run out of cash, and those still working were dispensing only a limited number of banknotes.
"I scoured the city in search of an automatic teller and I found only one place -- in a neighbourhood where people do not normally use ATMs," said Mohamed, a driver.
In Cairo, supermarkets that usually accepted credit cards insisted on cash instead, while crowds flocked to grocery stores in several neighbourhoods to stock up on essentials.
Many gas stations were closed, with long lines at those that were still open. The Chamber of Commerce in Cairo appealed to shopkeepers on Monday to reopen, but most ignored the call.