Lake Wales, Florida - A mayoral candidate in Lakes Wales is speaking out about his involvement with the Klan.
70-year-old John Paul Rogers wants to become the next mayor of Lake Wales, but critics say he could have a tough time bringing the town together because he's a
former member of Ku Klux Klan
.
Rogers, who is currently a commissioner, spoke with 10 News Tuesday afternoon and says, "I'm not running for the Klan for Grand Dragon." That's because Rogers has already had that title.
Photo Gallery:
Pictures of a 1977 KG rally in Tallahassee
(photos courtesy State Library Archives of Florida)
He blames his opponent Mike Carter for bringing up his former involvement in the United Klans of America.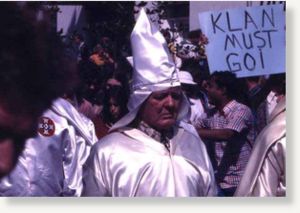 "My opponent's been going around saying I hung somebody in the park two years ago. Well, we have a city ordinance against that and I'm sure the police would have put me in jail if I would have done that."
He adds, "It's a shame that in a small city like Lake Wales where most everyone knows one another you have this kind of muckraking and character assassination."