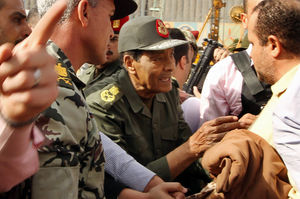 Egyptian military leaders have pledged that the country's emergency law will be lifted, but only "as soon as current circumstances end".
The promise was made as part of the Armed Forces Supreme Council's response to the mass protests which are intensifying after President Hosni Mubarak's latest refusal to step down.
In a statement read out on national television, the army leaders also pledged to support work towards peaceful transition of power, in the light of Mubarak handing over some powers to Omar Suleiman, the vice-president.
The third point made was that "the honest men who called for an end to corruption and for reform" will not be prosecuted.
The army generals also called for a return to normal life in the country, as thousands of protesters streamed into Cairo's central Tahrir Square.