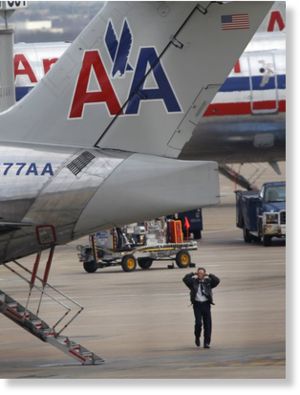 American Airlines plans to cut 13,000 jobs to cut costs while under bankruptcy protection
The parent of American Airlines wants to eliminate about 13,000 jobs - 15 percent of its workforce - as the nation's third-biggest airline remakes itself under bankruptcy protection.
The company proposes to end its traditional pension plans, a move strongly opposed by the airline's unions and the U.S. pension-insurance agency, and to stop paying for retiree health benefits.
AMR Corp. said Wednesday that it must cut labor costs by 20 percent. It will soon begin negotiations with its three major unions, but the president of the flight attendants' union quickly rejected the company's ideas as unacceptably harsh.
CEO Thomas W. Horton said Wednesday that the company hopes to return to profitability by cutting spending by more than $2 billion per year and raising revenue by $1 billion per year.
AMR lost $884 million in the first nine months of 2011, and on Tuesday it disclosed a $904 million loss for December alone. It has lost more than $11 billion since 2001.
"We are going to use the restructuring process to make the necessary changes to meet our challenges head-on and capitalize fully on the solid foundation we've put in place," Horton said in a letter to employees.