The mayor of Medora, a small tourist town in North Dakota, is planning to erect a gallows on his property in a bid to boost visitor numbers.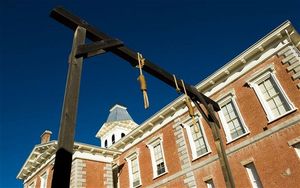 Doug Ellison, 49, has asked the town's Planning and Zoning Commission for permission to build the attraction, and intends to stage a mock hanging - with his own neck in the noose.
"The matter was not on the agenda and they were a little taken aback,'' Mr Ellison is reported to have said. "There was about five seconds of stunned silence and at first I think they thought I was joking.''
The commission is expected to vote on the proposal next month, and Mr Ellison said he was hopeful of securing approval.
"My vision is to stage a shooting, where I'd gun down someone in the street, have a trial and a hanging, all within 20 or so minutes," he said. "Anything longer than that and the tourists would lose interest."