Khalid was not a political activist, just an ordinary middle-class man inspired by the tide of change sweeping across the Arab world. Three weeks ago he joined a group that met at a Damascus mosque and protested against their government. Speakers stressed they had no weapons and hundreds chanted: 'Peacefully, peacefully, we want freedom peacefully.'
The response was immediate and vicious. Secret police attacked the men and women daring to defy a repressive regime that has ruled with fear for 40 years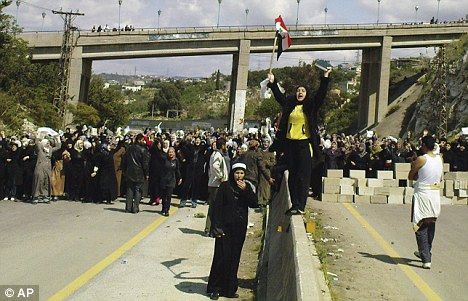 But, in an astonishing turn of events, the watching crowd turned on the loathed security forces and beat back their oppressors. Soon, however, reinforcements were called and cracked down hard, hauling dozens of people off to police cells.
Among them was Khalid. His family despaired, knowing what happens in these suburban torture chambers. His mother toured police stations for information on his whereabouts but abandoned her quest after a volley of aggressive abuse. She feared she might never see her son again
Six days later, Khalid turned up. He had been dumped in a back street with about 50 fellow protesters. Like the others he had been hideously beaten. His battered body was even covered with bite marks left by his captors. He will not protest again but his brother is furious.
'We are not political people, but politics has come into our house,' he told me.
This demonstration was just one of scores that have erupted across Syria, leaving 200 people dead, hundreds missing and the nation tremulous. In January, President Bashar Assad boasted he had no cause for concern over the popular protests in the Arab world as his dynastic dictatorship reflected 'the beliefs of the people'. Most observers shared his confidence, if not his disingenuous diagnosis.
Now Syrians debate if the regime will survive and diplomats watch nervously. For this explosion of anger not only has the potential to rip apart Syria - it could shake the entire region, given the country's pivotal role in events from Israel and Lebanon to Iraq, Iran and even Turkey.