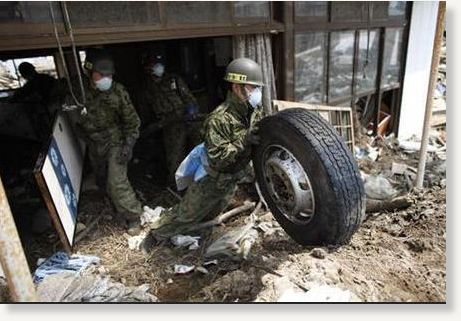 Japan's cabinet approved on Friday almost $50 billion of spending for post-earthquake rebuilding, a down payment on the country's biggest public works effort in six decades.
The emergency budget of 4 trillion yen ($48.5 billion), which is likely be followed by more reconstruction spending packages, is still dwarfed by the overall cost of damages caused by the March 11 earthquake and tsunami, estimated at $300 billion.
"With this budget, we are taking one step forward toward reconstruction ... and toward restarting the economy," Finance Minister Yoshihiko Noda told reporters after a cabinet meeting.
The magnitude 9.0 earthquake and 15 meter tsunami that followed caused Japan's gravest crisis since World War Two, killing up to 28,000 people and destroying tens of thousands of homes.
It also smashed a nuclear power plant which began leaking radiation, a situation the plant's operator says could take all year to bring under control.