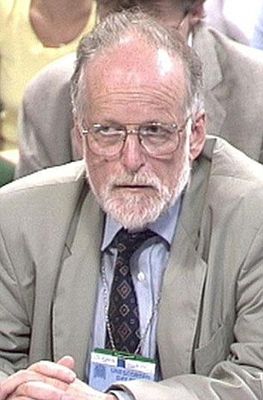 Today, the
Daily Mail
publishes for the first time the legal document which could trigger a full coroner's inquest into the death of Dr David Kelly.
The document, formally known as a memorial was written by group of campaigning doctors who have been trying to secure an inquest since 2004.
It lists the sequence of events which led up to Dr Kelly's death and the legal reasons they believe an inquest ought to be held.
It was sent to Attorney General Dominic Grieve QC by the doctors' lawyers, Leigh Day & Co., in September. Mr Grieve, who has read the document, is now considering whether to allow an application to the High Court for an inquest. The
Mail
has learnt that he has recently appointed a medical expert to assist him. His decision is expected shortly.
Dr Kelly, a world-renowned weapons inspector, is said to have killed himself after being named as the prime source of a BBC report accusing Tony Blair's government of lying to take Britain into war.
His body was found in woods close to his home in Oxfordshire on July 18 2003. Uniquely, for an unexpected death such as his, no coroner's inquest has ever been held.
The Hutton inquiry into his death found that he killed himself after slashing his wrist with a blunt knife and overdosing on painkillers.
On Monday the
Mail
revealed that no fingerprints were found on the blister packs of pills which Dr Kelly supposedly took. No fingerprints were recovered either from the knife or a bottle of water found by his side. He was not wearing gloves when his body was found, nor were there gloves anywhere near the body.