Unimaginable stress, irrepressible memories, psychoactive prescription drugs make lethal combination.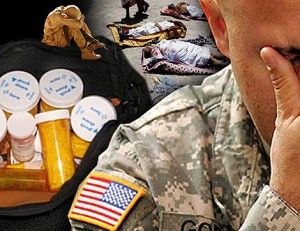 With what must be one of the strangest statistics in the history of wartime, the Pentagon has released the fact that
more soldiers are dying overseas by committing suicide than from combat wounds
- about one a day. July 2012 was the worst on record, a month that saw 38 soldiers take their own lives and with 349 recorded for the year. These figures have doubled in the past decade.
More alarming yet is the report that America's returning vets are committing suicide at the unprecedented rate of more than 20 each day - "one every 65 minutes," reported
Daily News
of New York City - but there is no official answer as to why this happening.
Is it the post-traumatic stress from repeated tours in war zones or Big Pharma's drugs that are being used to treat it?