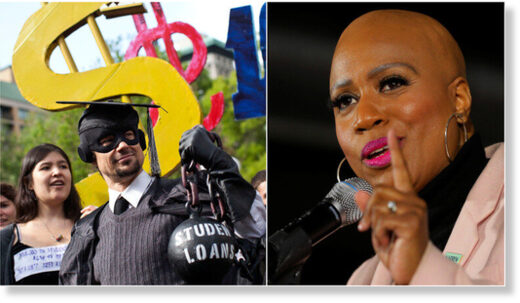 US Representative Ayanna Pressley, a member of the progressive 'Squad' in Congress, has argued that student-loan debt forgiveness is a racial-justice issue, drawing flak even from fellow Democrats.
"Student debt cancellation is a racial-justice issue," the Massachusetts Democrat declared on Monday on Twitter.
Pressley's tweet came amid increasing discussion of student loan debt after Senate Minority Leader Chuck Schumer
said
earlier this month that once Joe Biden becomes president, he would be able to extinguish $50,000 of student borrowings for each debtor through an executive order.
Pressley's suggestion that debt forgiveness should be tied to skin color was predictably rejected or mocked by conservatives, such as media critic Mark Dice, but failed to strike a chord with some Democrats, and the members of the community to which she was appealing.
Maxwell Little, political activist and former field organizer for Illinois Democratic Governor J.B. Pritzker, pointed out that white students hold most student debt, so forgiving college loans would only increase the racial wealth gap.
Paying reparations to American descendants of slaves "must be first," he said.