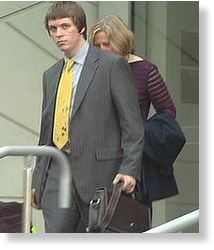 A 20-year-old man has described being tortured with railway spikes, having salt rubbed into knife wounds and then enduring a threat of being thrown into a pit full of snakes during his 12-hour kidnapping by "a genuine psychopath".
Griffin de la Hunty Jagoe continued giving evidence against Simon Sun, 46, Ranjardar Said, 28, and Sammy Conteh, 19, in a Perth District Court today.
All three men deny the charges of kidnapping, extortion and assault occasioning bodily harm.
Mr Jagoe was rescued by the police Tactical Response Group after they were alerted to his capture by his mother Barbara de la Hunty, the court heard.
Mr Jagoe was taken to a house in Bentley where he was allegedly threatened for more money on Friday, October 15 last year, until the following evening as part of ongoing extortion efforts by the three men, the prosecution and Mr Jagoe claimed.
Some of the alleged incidents were filmed on a mobile phone and played to the jury.