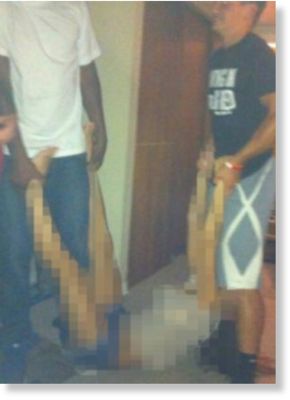 One of the accused in the Ohio rape case that has outraged America enjoyed a six day vacation in California and watch a football game while supposedly under house arrest, it emerged today. MailOnline has learned that Steubenville High School Football star Ma'lik Richmond was granted permission to travel between December 31 and January 5. Along with team-mate Trent Mays, Richmond is charged with raping a 16-year-old girl at a series of back to back High School parties last August.
Mays is also charged with disseminating photographs of a nude minor as images of the unconscious teenage girl were circulated on Instagram and in text messages.
Richmond, 16, travelled with his former legal guardians Greg and Jennifer Aggresta - with whom he continues to live - to watch their biological son, Johnny, compete in the prestigious All American Academic Football Bowl.
The decision has enraged members of this community in a case where many have alleged that football players in the economically deprived town operate according to different rules.
Speaking to MailOnline Fred Abdalla Jr, Chief Probation Officer at Jefferson County Juvenile Court said: 'Ma'lik Richmond's attorney asked the judge if Ma'lik could have permission to travel with the Agresta family between the dates of December 31 through January 5.'