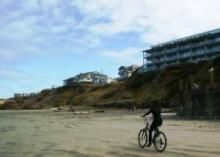 Newport, Ore. - While the U.S. Department of Energy said in public statements that there are "no significant quantities of radiological material" deposited on West coast beaches, U.N. Secretary-General Ban Ki-moon said it was time to reassess the international atomic safety regime; meanwhile, there's growing fears here in Newport and other West coast fishing communities that Japan's radiation will spread from its coast to here.
Japan crisis spawns new concerns about fish safety along West coast
As Japan's nuclear reactors continue leaking radiation into the atmosphere and, in turn, have obliterated centuries-old fishing ports in the Tsunami-hit city Kamaishi, this news has prompted growing fears here in Newport and other coastal fishing towns that radiation could find its way here. For example, a hard wind blowing post-Tsunami wind came sliding down over the Newport beach Saturday morning greeting a lone bike rider on usually packed beaches that are now filled socked in waste from Japan. The woman biker said she's fears rabid dogs that are roaming the low sand dunes called "denes" where toxic water and dead sea life collect along sandy tracks. And, this against a backdrop of zero Spring Break tourists being seen on what's traditionally the busiest Saturday of the early spring season.