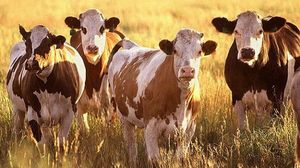 A form of genetically modified grass is being cited as the likely culprit in the sudden death of a herd of cattle in Central Texas,
according to CBS News.
Preliminary tests revealed that the grass, an altered form of Bermuda grass known as Tifton 85, had mysteriously begun producing cyanide gas
. Scientists at the U.S. Department of Agriculture are conducting further tests to determine if some sort of mutation caused the grass to suddenly begin giving off the deadly gas.
The cattle died roughly three weeks ago while grazing on a ranch in Elgin, Texas, about 20 miles east of Austin. According to the ranch's owner, Jerry Abel, the cattle began howling shortly after being let out to graze one day. Fifteen of his eighteen cattle died, all of them in a matter of hours.