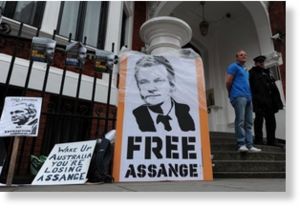 London - It sounds like a brainteaser: how could WikiLeaks founder Julian Assange get from Ecuador's embassy in London onto a plane to its capital Quito, without setting foot on British territory?
When he walked into the embassy on Tuesday seeking political asylum, the Australian ex-hacker pinned his hopes on Ecuador as his ticket out of extradition to Sweden, where he faces questioning over sex crime allegations.
But legal experts say the dramatic escape bid has lured 40-year-old Assange, who had exhausted his British legal options -- into an apparent dead end.
Britain's Foreign Office says that as long as the anti-secrecy campaigner stays in the embassy, which occupies a flat in London's plush Knightsbridge district, he is beyond the reach of the police.
But if he steps outside, he faces immediate arrest by the police for having breached bail conditions, which include staying at his bail address between 10:00 pm and 8:00 am. And Scotland Yard officers are guarding the exits.