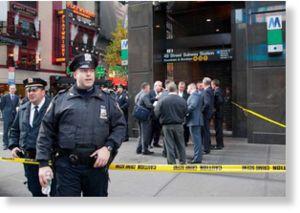 New York - Authorities said a suspect has implicated himself in the death of a New York man who was pushed onto the tracks and photographed just before a train struck him - an image that set off an ethical debate after it appeared on the front page of the
New York Post
.
The suspect was taken into custody on Tuesday after investigators recovered security video that showed a man fitting the description of the suspect working with street vendors near Rockefeller Center, said New York Police Department spokesman Paul Browne on Tuesday.
"The individual we talked to made statements implicating himself in the incident," Browne said.
No charges were immediately announced.
Witnesses told investigators they saw the suspect talking to himself Monday afternoon before he approached Ki-Suck Han at the Times Square station, got into an altercation with him and pushed him into the train's path.
Han, 58, of Queens, died shortly after being struck. Police said he tried to climb a few feet to safety but got trapped between the train and the platform's edge.
The Post
published a photo on its front page Tuesday of Han with his head turned toward the train, his arms reaching up but unable to climb off the tracks in time. It was shot by freelance photographer R. Umar Abbasi, who was waiting to catch a train as the situation unfolded.
Abbasi said in an audio clip on the
Post
's website that he used the flash on his camera to try to warn the train driver that someone was on the tracks. He said he wasn't strong enough to lift Han.
"I wanted to help the man, but I couldn't figure out how to help," Abbasi said. "It all happened so fast."