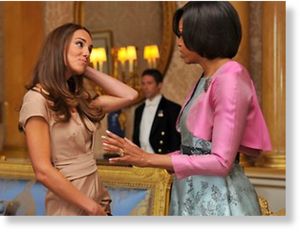 Outfit costs $270 but made for less than $23
Seamstresses earn just $1.54 per hour
Dress now advertised on eBay for $926
Costing £175 ($270) on the high street, it helped Catherine, Duchess of Cambridge, outshine America's First Lady.
But the Reiss dress (left) that made such an impression when the pair met last week was produced by women paid only 99p an hour in a poor suburb of the Romanian capital, Bucharest.
The camel-coloured "Shola" design was made for less than $23 by seamstresses earning $1.54 an hour less than the average salary for textile workers in the eastern European nation.
British fashion chain Reiss is one of the Duchess's favourite brands. After she wore the dress to meet Barack and Michelle Obama, demand for it surged, causing the company's website to crash and the dress to sell out within 24 hours.
It has been advertised for $926 on eBay. Yesterday, Reiss said it would re-release the dress in five to six weeks.