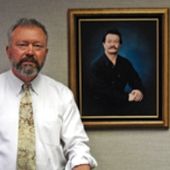 Sixteen years after the death of convicted felon Kenney Trentadue, the FBI and CIA have been ordered to turn over documents about the man whose family believes he was wrongfully murdered by the federal government after the Oklahoma City bombing.
Trentadue's brother, attorney Jesse Trentadue, has sought information from the federal agencies for five years, filing multiple Freedom of Information Act (FOIA) requests. The government continued to avoid turning over records to Jesse Trentadue, leading to his filing a lawsuit in a Utah federal court.
Judge Clark Waddoups ruled last week that CIA and FBI officials must comply with the FOIA requests. Waddoups added that the agencies must provide evidence that computer drives and other files at an evidence control center in Oklahoma City and the FBI's crime lab have been thoroughly searched.
On June 10, 1995, Kenney Trentadue was arrested at the Mexican border for drunk driving. The convicted bank robber was held in a Southern California prison for several weeks. Because of parole violations in Oklahoma, on August 18 he was transferred to a federal detention facility in Oklahoma City, where, four months earlier, Timothy McVeigh and Terry Nichols had blown up the Alfred P. Murrah Federal Building, killing 168 people.