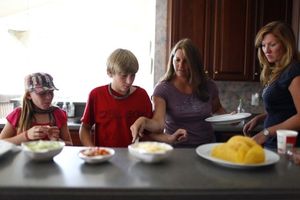 Denise Steele has been living in Loudoun County for more than a decade, becoming involved with the community, especially through being part of her son's Boy Scout troop for the past six years.
Steele started out in Boy Scouts as a den leader for her son, Jackson, 12, for his school, Horizon Elementary. No other parent would step up to the plate to take on the responsibility of leading a Cub Scout troop.
In retrospect, the situation was probably good - her son's troop excelled at everything, including accomplishing badges and winning the Blue and Gold Award all five years, one of the highest awards for Boy Scouts.
Above all, like any mother, Steele put her son first and wanted to make sure he had a great time in scouts.
But in June, Steele's chances to further bond with her son through scouting were dashed.
The mother was removed from the troop after one of the other assistant scoutmasters discovered Steele is a lesbian.
Steele has been in a domestic partnership with Jackie Funk for the past 19 years. The two reside in Potomac Falls with their two children, Jackson and Jaden, 9, and Steele's nephew Will, 10.