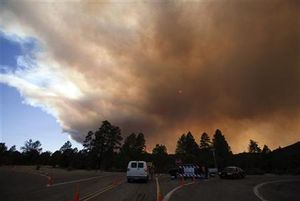 Two cousins who allegedly left a campfire unattended have been charged with starting Arizona's largest ever wildfire that torched more than 800 square miles of wilderness before it was contained. prosecutors said on Wednesday.
Caleb Joshua Malboeuf, 26, and David Wayne Malboeuf, 24, were charged with starting the so-called Wallow Fire on May 29, in the Apache Sitgreaves National Forest in eastern Arizona, the U.S. Attorney's office said in a news release.
The blaze raged for more than a month, scorching three dozen homes and businesses and displacing up to 10,000 people at its peak, while roaring through 840 square miles of ponderosa pine forests in eastern Arizona and into New Mexico.