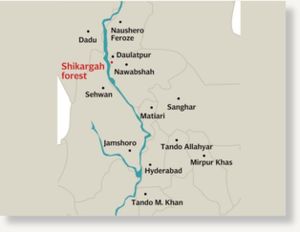 The media and officials played hide-and-seek on Wednesday over reports of a helicopter crashing in Nawabshah - or Sehwan - at around 2 pm. The mysterious helicopter allegedly crashed in a jungle and initially, officials had said that the agencies confirmed that it belonged to the government and six people were on board.
When the news spread, however, every relevant authority started zipping up about it.
The Inter-Services Public Relations denied the crash, saying that if it were an army helicopter, it would have known. The Civil Aviation Authority said it had no idea about the mysterious chopper and had only heard of it through the media. "We checked through our systems and found nothing," CAA spokesman Pervez George told The Express Tribune. Meanwhile, a CAA Nawabshah official quipped, "We do not know anything about the helicopter because it was not ours. We only heard it from the media, so it must be yours." Along with him, the Nawabshah DCO also denied any crash happened.