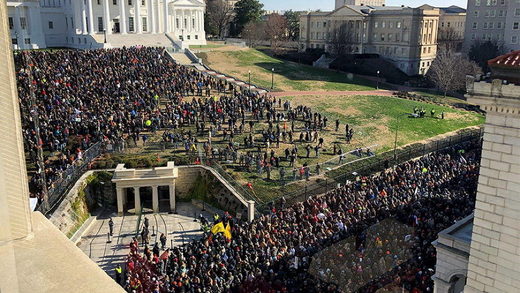 Thousands of
Second Amendment
supporters carrying long firearms and wearing stickers reading "Guns Save Lives" descended upon Virginia's Capitol in Richmond Monday for a widely publicized rally to protest a recent push by state
Democrats
for comprehensive gun control.
The rally comes as the city has been on high alert for days following threats of violence, leading to road closures as well as a ban on firearms in the Capitol and on its grounds. Yet as of midday Monday, the demonstrations were peaceful.
"If they can come for your guns in Virginia, they can come for them in West Virginia," demonstrator Annette Parker told Fox News, noting that she drove six hours to get to the event.
The throngs who gathered in Richmond Monday were heard in large groups reciting the Second Amendment in unison, while others broke out in chants of "we will not comply!"