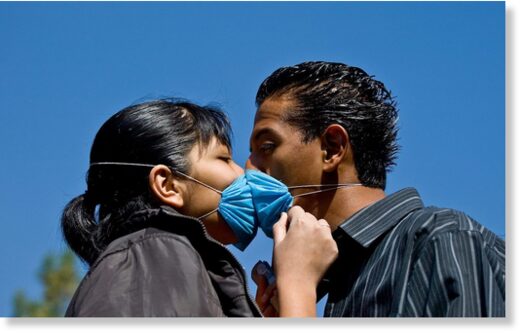 Wearing face masks and avoiding kissing during sex are
crucial
in preventing the spread of coronavirus, a sexual health charity has said.
Due to the social distancing measures which were introduced in March, the number of people seeking new sexual partners has plummeted, according to research.
The Terrence Higgins Trust (THT), the UK's leading HIV and sexual health charity, found that 84 per cent of people had abstained from sex outside of their immediate household because of the restrictions.
However, after several months of the lockdown and its partial easing, THT said it was
no longer realistic to ask people to completely refrain from sex
.
Now, the charity has published guidelines on how to have safe sex while managing the risk of Covid-19.
In the guidance, the charity advised the best sexual partner during the pandemic is yourself or someone you live with.
Masturbation, using sex toys or participating in phone or online sex are recommended as the safest options, as these can be done at a distance from others.