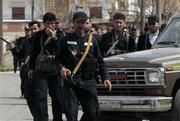 Beirut - A mass protest calling for sweeping changes in Syria's authoritarian regime turned bloody Friday, with the government and protesters both claiming to have sustained heavy casualties as the country's three-week uprising entered a dangerous new phase.
Human rights activists and witnesses said Syrian security forces opened fire on tens of thousands of protesters in the volatile southern city of Daraa, killing 25 people and wounding hundreds. But state-run TV said 19 policemen and members of the security forces were killed when gunmen opened fire on them.
It was the first significant claim of casualties by the Syrian government, which has contended that armed gangs rather than true reform-seekers are behind the unrest - and it could signal plans for a stepped-up retaliation.
Protest organizers have called on Syrians to take to the streets every Friday for the past three weeks, demanding change in one of the most rigid nations in the Middle East. Protests were held in several cities across the country Friday as the movement showed no sign of letting up, despite the violent crackdowns.
Syria's National Organization for Human Rights said at least 32 people were killed nationwide on Friday. That lifts the death toll from three weeks of protests to more than 170 people.