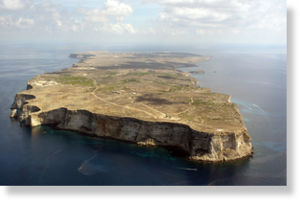 Twenty-five men were apparently asphyxiated by motor fumes and died in a small boat crammed full of African migrants which arrived on the Italian island of Lampedusa on Monday, port authorities said.
The boat arrived after a three-day voyage from Libya carrying 296 people from sub-Saharan Africa, including 36 women and 21 children, the latest in a wave of arrivals since a western alliance began a military campaign to oust Libyan ruler Muammar Gaddafi earlier this year.
"Twenty-five bodies were found on board a boat from Libya; the others appear to be fine, they are now undergoing checks," said Antonio Morana, the commanding officer at Lampedusa port.