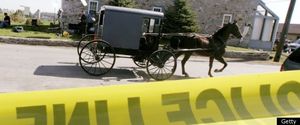 Sheriff's deputies are closing in on suspects from a troublemaking Amish splinter group in Ohio who have broken into homes and cut off the beards and hair of other Amish men.
Authorities tell
HuffPost
Crime they are planning to arrest at least four men who are followers of Sam Mullet, a bishop who Jefferson County Sheriff Fred Abdalla said has clashed with other Amish leaders for years.
At least three attacks in rural eastern Ohio since September prompted the victims -- all Amish -- to look outside their traditionalist community to seek help from local police.
In one nighttime raid in Carroll County, a group of men knocked on a door, pulled a man out by the beard and tried to chop off his facial hair, the
Wheeling Intelligencer
reports.