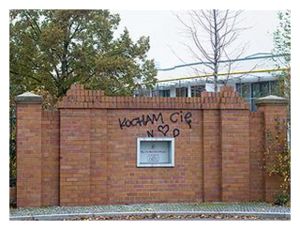 German pastor Gabriele Stangl says she will never forget the harrowing confession she heard in 1999. A woman said she had been brutally raped, got pregnant and had a baby. Then she killed it and buried it in the woods near Berlin.
Stangl wanted to do something to help women in such desperate situations. So the following year, she convinced Berlin's Waldfriede Hospital to create the city's first so-called "baby box." The box is actually a warm incubator that can be opened from an outside wall of a hospital where a desperate parent can anonymously leave an unwanted infant.
A small flap opens into the box, equipped with a motion detector. An alarm goes off in the hospital to alert staff two minutes after a baby is left.
"The mother has enough time to leave without anyone seeing her," Stangl said. "The important thing is that her baby is now in a safe place."
Baby boxes are a revival of the medieval "foundling wheels," where unwanted infants were left in revolving church doors. In recent years, there has been an increase in these contraptions - also called hatches, windows or slots in some countries - and at least 11 European nations now have them, according to United Nations figures. They are technically illegal, but mostly operate in a gray zone as authorities turn a blind eye.
But they have drawn the attention of human rights advocates who think they are bad for the children and merely avoid dealing with the problems that lead to child abandonment. At a meeting last month, the United Nations Committee on the Rights of the Child said baby boxes should be banned and is pushing that agenda to the European Parliament.
There are nearly 100 baby boxes in Germany. Poland and the Czech Republic each have more than 40 while Italy, Lithuania, Russia and Slovakia have about 10 each. There are two in Switzerland, one in Belgium and one being planned in the Netherlands.
In the last decade, hundreds of babies have been abandoned this way; it's estimated one or two infants are typically left at each location every year, though exact figures aren't available.
"They are a bad message for society," said Maria Herczog, a Hungarian child psychologist on the U.N. committee. "These boxes violate children's rights and also the rights of parents to get help from the state to raise their families," she said.
"Instead of providing help and addressing some of the social problems and poverty behind these situations, we're telling people they can just leave their baby and run away."