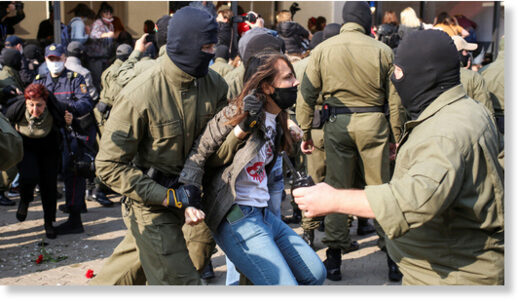 Numerous protesters were detained in Minsk on Saturday after police moved to disperse an all-female march -
police had previously taken a softer approach to these events than other mass protests in the crisis-hit country.
The woman were demanding President Alexander Lukashenko's resignation, as the fall out continues from last month's disputed election.
The protest began peacefully at Svoboda (Freedom) Square on Saturday afternoon, RT's Murad Gazdiev reported from the scene, noting a "festive" atmosphere there. The area is the location of the rebuilt historic town hall of Minsk, which is now a museum.
Footage showed several hundred demonstrators gathering to chant slogans and make noise with pots and bottles. Police trucks soon arrived, and men wearing khaki uniforms without insignias demanded that the crowd disperse.
The women refused to obey and, shortly afterwards, the arrests began.
The protesters locked arms to form "human chains" and chanted "shame" at the police. Some scuffled with the troops and tried to remove balaclavas from their heads. Photos and videos from the scene showed the officers grabbing some of the women by the hair and bundling them into prison vans.