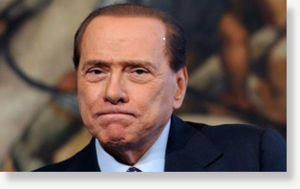 Despite newspaper claims that Karima el-Mahroug told the Italian prime minister she was a minor, he remains unruffled
Italy's prime minister, Silvio Berlusconi, has brushed aside his indictment on vice charges saying he was untroubled by the prospect of standing trial. In his first public comment since a judge committed him for trial on 6 April, he said: "For love of country I won't talk about it. Suffice to say that I am not in the slightest bit worried."
The prime minister, who was speaking at a press conference in Rome, cut short further questions on the affair saying: "We're here to deal with the economy after all."
Earlier, an Italian newspaper alleged Berlusconi was aware Karima el-Mahroug, the girl he allegedly paid for sex, was underage, according to a statement she reportedly made to prosecutors.
The centre-left daily
La Repubblica
has published an extract from el-Mahroug's alleged evidence, in which the Moroccan runaway said that when she first met Berlusconi she told him she was a 24-year-old Egyptian. But on a subsequent visit, in March 2010: "I told him the truth: I was a minor and I had no papers."
She said that at their first meeting, and before any relationship between them, the prime minister gave her €50,000 (£42,000).
Berlusconi denies any wrongdoing.