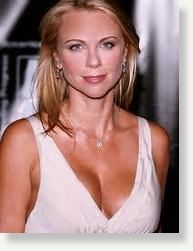 Updated after the jump: Commenters respond to bloggers respond to reporters respond to Tweeters respond to the inexcusable crime against Lara Logan.
Breaking news:
South African TV journalist Lara Logan, known for her shocking good looks and ballsy knack for pushing her way to the heart of the action, was brutally and repeatedly raped while a crowd of 200 celebrated the February 11 resignation of 30-year Egyptian President Hosni Mubarak.
Logan was in Tahrir Square with her
60 Minutes
news team when Mubarak's announcement broke. Then, in a rush of frenzied excitement, some Egyptian protesters apparently consummated their newfound independence by sexually assaulting the blonde reporter:
CBS News
reports that "she and her team and their security were surrounded by a dangerous element amidst the celebration." Then, the horrific assault:
In the crush of the mob, she was separated from her crew. She was surrounded and suffered a brutal and sustained sexual assault and beating before being saved by a group of women and an estimated 20 Egyptian soldiers. She reconnected with the CBS team, returned to her hotel and returned to the United States on the first flight the next morning. She is currently in the hospital recovering.