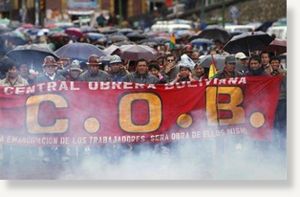 Thousands of people have rallied in La Paz, Bolivia to demand higher salaries as the cost of food and fuel increases.
Unions led Friday's demonstrators, who marched in the streets of the capital to protest the cost of living. Some of the protesters set off sticks of dynamite while taking part in the fifth day of protests in the Andean nation.
The protest comes one month after President Evo Morales said he planned to raise fuel prices eventually, despite rescinding a decree to do so. Morales has said the increase is necessary to level prices in the region so government subsidies do not pay for gasoline that is smuggled in from other countries.