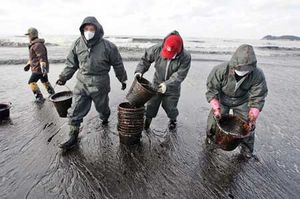 New Orleans, Louisiana - In an emotionally charged meeting this week sponsored by the National Commission on the BP Deepwater Horizon Oil Spill, fishermen, Gulf residents and community leaders vented their increasingly grave concerns about the widespread health issues brought on by the three-month-long disaster.
"Today I'm talking to you about my life," Cherri Foytlin told the two commissioners present at the Jan. 12 meeting. "My ethylbenzene levels are 2.5 times the 95th percentile, and there's a very good chance now that I won't get to see my grandbabies...What I'm asking you to do now, if possible, is to amend [your report]. Because we have got to get some health care."
Ethylbenzene is a form of benzene present in the body when it begins to break down. It is also present in BP's crude oil.
"I have seen small children with lesions all over their bodies," Foytlin, co-founder of Gulf Change, a community organisation based in Grand Isle, Louisiana, continued.
"We are very, very ill. And dead is dead. So it really doesn't matter if the media comes back... or the president hears us, or... if the oil workers and the fishermen and the crabbers get to feed their babies and maybe have a good Christmas next year... Dead is dead...I know your job is probably already done, but I'd like to hire you if you don't mind. And God knows I can't pay you. But I need your heart. And I need your voice."
"We hear what you are saying," said Beinecke. "We will take these health issues and concerns back to the president."
The commission, appointed by President Barack Obama, released its final report this week after a six-month investigation into the nation's worst-ever oil disaster.
The report recommended a massive overhaul of the oil industry's failed safety practices in the Gulf, as well as the creation of a new independent agency to monitor offshore drilling activity.
However, most of the 250 people at the meeting here focused on the health crisis that has exploded in the wake of the April 2010 disaster, leaving former BP clean-up workers and Gulf residents alike suffering from ailments they attribute to chemicals in BP's oil and the toxic dispersants used to sink it.