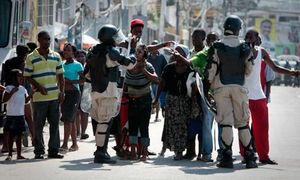 In the wake of major outbreaks of diseases like cholera and Aids comes violent mistrust of scientists and politicians. Historian Richard Evans looks at possible lessons for the future.
* * *
One of the most devastating cholera epidemics of modern times is
still in progress
in Haiti and likely to get worse. It follows on the heels of a major earthquake early in 2010 and a hurricane, which combined to leave one and a half million people homeless by the end of the year.
The spread of the disease was accelerated by poor sanitation in the camps set up for earthquake victims. Water supplies were inadequate or unhygienic and the resources and organisation to provide proper waste removal facilities were lacking, with the result that the epidemic is continuing, with the total number of people affected expected to exceed 800,000 by the end of this year and more than 11,000 fatalities.