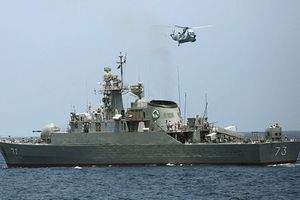 Two Iranian warships have crossed the Suez Canal and are heading towards the Mediterranean Sea after Egypt issued authorization for the move.
The two Iranian vessels,
Khark
and
Alvand
, crossed the Suez Canal, a strategic international shipping route in Egypt, on Tuesday.
"They entered the canal at 5:45 a.m. (0335 GMT)," Reuters quoted an official of the canal as saying.
The 1,500-ton patrol frigate
Alvand
is armed with torpedoes and anti-ship missiles, while the larger 33,000-ton supply vessel
Khark
has 250 crewmembers and can carry three helicopters.
A Lebanese security official, who asked not to be named, earlier said the passage of the two Iranian naval ships through the Suez Canal has been delayed due to stormy weather off Syrian and Lebanese coast.
Egypt's official news agency, MENA, reported on Friday that Cairo had "agreed to allow the two Iranian warships to transit the Suez Canal."