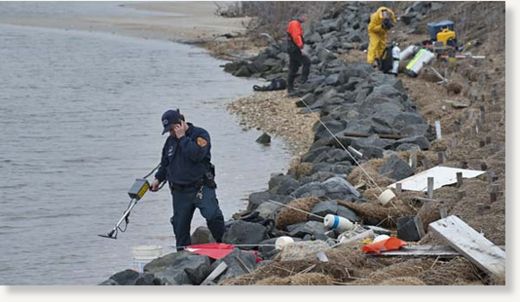 A search on a rustic barrier island for a missing prostitute has yielded a series of grisly finds pointing to a serial killer, or maybe two. Authorities are stumped, and locals are shaken.
In the summertime, the beaches along Ocean Parkway on Long Island are an American photo album of family picnics, July Fourth fireworks and minivans wedged bumper to bumper. But in the winter, this idyllic place is a windswept wilderness laced with thickets of brush that, it seems, provide the perfect dumping ground for murder.
That's the macabre scene that has unfolded since a prostitute went missing a year ago and a search party began scouring this seashore getaway for some sign of her.
What turned up instead was a string of mostly skeletal remains suggesting the work of a serial killer, or maybe two. Police are eager to find Shannan Gilbert, 24, who they suspect is somewhere in the impenetrable terrain that keeps offering up mysteries they can't explain.
So far, this barrier island off Long Island's south shore, 40 miles from New York City, has yielded a terrible crop of death, including the bodies of four other women known to have worked as prostitutes, shrouded in burlap; a bag of arms and legs; a human skull; and the body of an unidentified woman lying near that of a child about 5 years old, wrapped in a blanket.
Authorities are stumped, and the hardy, eclectic, year-round dwellers here are shaken. Yet such grisly finds have taken on a sad familiarity; strings of prostitute killings, most unsolved, exist in almost every major city and many smaller places, experts say, and Long Island has not been immune. Joel Rifkin of East Meadow was convicted of killing nine women, mostly drug-addicted prostitutes, between 1989 and 1993 and is serving a 203-year prison sentence. Robert Shulman of Hicksville was convicted of five such killings in the 1990s; he was serving a life term in prison when he died in 2006.