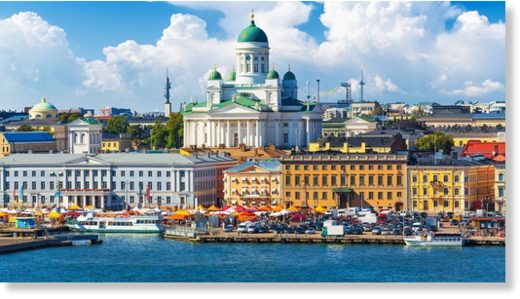 To be the happiest country, having the top economic growth isn't necessarily the answer. Are you listening, U.S.?
For the second year in a row,
Finland
has been named the happiest country in the world by the
World Happiness Report
. What's more, the Nordic nation has pulled "significantly ahead" of the other top 10 countries in the report, which ranks the happiness levels of 156 countries using data from Gallup World Poll surveys.
The U.S., by contrast, has continued its downward trend. This year it's in 19th place for overall happiness.
Last year it was 18
, down from 14 the year before.
It's not hard to understand why Finland is doing so well. The northern European country has a
strong social safety net
, including a
progressive, successful
approach to ending homelessness. It also has a
high-quality education system,
and its commitment to closing the gender gap is paying off. With a population of just over 5.5 million people, it's the only country in the developed world where
fathers spend more time with school-aged children
than mothers.

Comment: The article linked to above suggests that it is not actually "closing the gender pay gap" that makes for better quality of life per se. But rather, that Finland also gives new fathers paid paternity leave!