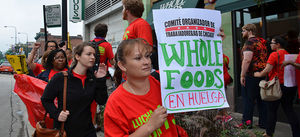 It's not clear what shocked people most about the report in
Fortune
that Whole Foods Market sells goat cheese and tilapia prepared with prison labor - the
horrendous exploitation of prisoners for a base rate less than one-tenth of Whole Foods' starting wage, or the fact that even after paying prisoner-workers sixty cents an hour, that tiny wheel of goat cheese still costs upward of seven dollars.
Whichever reason it was, for many the story disturbed the experience that Whole Foods carefully cultivates for its customers.
Walk into any Whole Foods Market and the messaging is clear. Colorful panels above neatly displayed quarts of organic chicken broth boast that Whole Foods pays the highest minimum wage in the grocery business ($10 an hour, which is still a poverty wage for most workers). Pamphlets outside the meat cases detail the company's animal welfare rating system and explain why it doesn't sell shark meat and other seafood that can't be fished sustainably. Workers in a seemingly casual but carefully tailored uniform set out "Whole Trade" bananas while smiling and making small talk with customers. Along the walls, posters introduce you to different vendors whose products the store stocks. When you check out, a cashier may ask you to donate to the Whole Planet Foundation - a program to give microloans to women entrepreneurs in developing countries. The stores are designed, from the crates used to display produce to the boat-deck-style overalls worn in the seafood department, to give you the impression of a highly compressed supply chain, carefully monitored for quality and decentralized to produce "win-win" relationships with vendors.
Whole Foods portrays this experience as the natural state of affairs in a bastion of so-called conscious capitalism - a strategy that has contributed in no small part to the company's incredible success. It pioneered a new model for grocery stores that based its marketing not only on the products it sold but on its image as an "activist" company that "revolutionized" the way the grocery business was run. The real secret of Whole Foods' success, however, is far less novel or glamorous:
it has essentially profited from scamming its customer base.