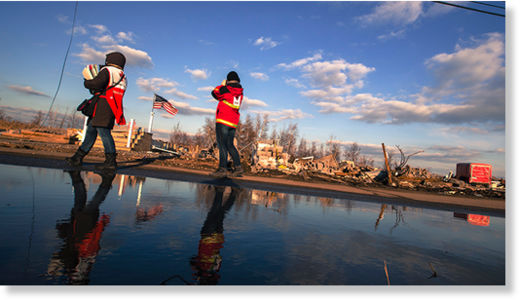 The American Red Cross was ill-equipped to provide aid to victims of Superstorm Sandy and Hurricane Isaac, a new report suggests, and allocated resources not towards offering help, but on generating publicity.
A new report conducted jointly by
ProPublica
and
NPR
raises concerns about how the humanitarian group conducted itself in the wake of the storms that occurred in 2012 and 2011, respectively, and claims that the organization's actions were "politically driven" and not on par with how the Red Cross routinely acts in such situations.
Through internal documents obtained by journalists and interviews conducted with those close to the Red Cross' response to those emergencies, the reports published this week by both media outlets conclude that evidence depicts "an organization so consumed with public relations that it hindered the charity's ability to provide disaster services."
Among the allegations unearthed in the new report are claims that "as many as 40 percent" of the agency's emergency vehicles were used as backdrops during pressers, not for providing relief, during those emergencies, and accusations that Red Cross headquarters in Washington "diverted assets for public relations purposes." According to one of the truck drivers, Jim Dunham, relief vehicles were ordered by the dozens to be deployed not to assist, but "just to be seen" at press conferences.