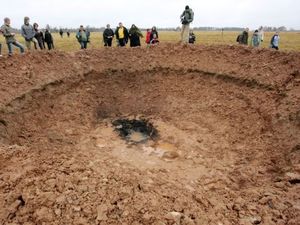 Investigators Say Radiation Levels Normal
Scientists were investigating Monday whether a large crater found in a meadow in northern Latvia had been created by meteorite. One expert said it was likely a hoax.
Experts in the Baltic country rushed to the site after reports that a metorite-like object had crashed late Sunday in the Mazsalaca region near the Estonian border.
Uldis Nulle, a scientist at the Latvian Environment, Geology and Meteorology Center, said his first impression after observing the site late Sunday was that the 27-foot (nine-meter) wide and nine foot (three-meter) deep crater had been caused by a meteorite. He said there was smoke coming out of the hole when he arrived.