It was a quiet Sunday night in Kovinna, Andiambalama. At 9.05 p.m., 24-year-old H.T. Nadeeshani was having a bath at the well in her garden when she noticed something unusual in the western sky. A bright light, almost as large as the full moon, appeared to be moving towards her in a wide arc. Alarmed by thoughts of terrorist air attacks, she called out to her neighbour, Mrs. Renuka Jayakody. Together they watched fearfully as the glowing object drew closer, landed on the Jayakodys' roof and vanished completely. A few minutes later the air vibrated with a loud explosion.
The next day they discovered that parts of the asbestos sheets on the roof were charred and cracked. A few pieces of rock and sand were scattered around the damaged area.
Similar incidents were reported around the country that night. Several people in areas such as Puttalam, Maho and Bingiriya also noted the appearance of the bright light in the sky as well as the loud explosion. "We thought it was another air attack or the beams from the airport," says K. Sarath, a trishaw driver in Kimbulapitiya who watched a flaming object land on a house and heard the booming sounds soon afterwards.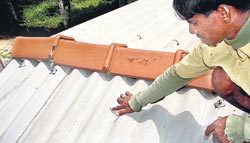 ©unk
Prasanna Jayakody shows the damaged roof.
In Campbell Place, Dehiwala, the roofs of two buildings were damaged, and a loud noise was heard. "24 asbestos sheets were broken," says M.D. Sampath who works in one of the buildings, adding that there was no sign of what caused the damage.