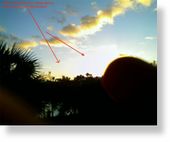 Numerous reports of a large fireball in the sky were called into 911 dispatchers and our NewsChannel 5 newsroom Thursday evening.
Viewers reported a large green and blue fireball falling from the southern sky around 4:55pm.
Initial reports were a possible plane on fire in the sky but law enforcement officials confirmed no reports of aircrafts down.