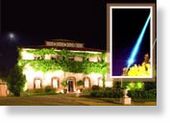 Bright lights that suddenly streak across the night sky with an accompanying boom tend to elicit a flurry of phone calls to local police departments.
These rare events aren't typically wayward missiles, or satellite debris (as was thought when one such streak recently lit up the skies over Texas), or alien invasions. But they do come from outer space.
Scientists aptly call the objects fireballs because they are the brightest meteors, or "shooting stars," that fall to Earth.
A fireball as bright as the full moon raced across the Spanish skies on July 11, 2008, and was tracked by the Spanish Fireball Network (SPMN). Researchers used the tracking data to trace the path of the comet backwards through the sky and space; they think the boulder may be a chunk of a comet that broke up nearly 90 years ago. Their conclusions are detailed in the Feb. 11 online issue of the journal
Monthly Notices of the Royal Astronomical Society
.