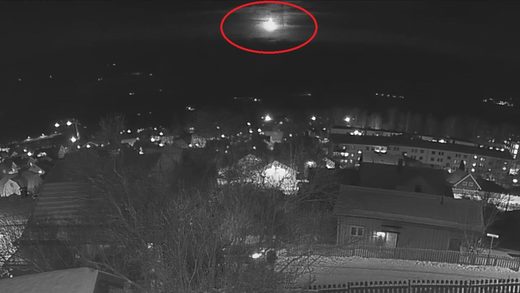 On December 18, 2017, at 16:37:07 UT, a bright meteor fireball lit up the southern regions of Norway. The event was registered by cameras of the
Norwegian Meteor Network
on a partially cloudy sky.
A
video
of the event was recorded by Tore Myhren from Lillehammer, and shows the fireball through some clouds near the horizon.
"The meteor was of sporadic origin, with a radiant located at R.A. = 331,3°, Dec. = 62,2°," writes Kai Gaarder of the Norwegian Meteor Network, as
reported
by the International Meteor Organization.
Some eyewitness reports describing the phenomena include:
Ørjan Solheim:
"Saw an insane powerful flash of light in Rosendal. The whole valley and the mountains lighted up. A lot of times stronger than lightning. Lasted longer and was smoother than lightning. Stopped the car and went out, but could hear no sound."