Strange lights in the night sky have prompted readers of the Somerset
County Gazette
to question the existence of UFOs.
At about 10pm on Monday night, sightings of a strange glow in the sky was reported by Fay Boyd of Kingston St Mary, Richard Fowle of Cheddon Road in Taunton, and his son Edward.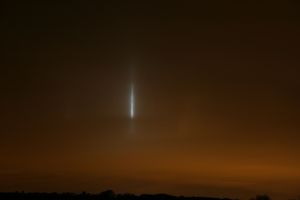 ©Richard Fowle
A Gazette reader comments: "This fascinating occurrence could be the rare phenomenon known as the Zodiacal Light, a ghostly cone of illumination caused by the reflection of the Sun's light from millions of tiny particles in the plane of the Earth's, and Venus' orbits. It's visible just after twilight, a vast faint triangular glow rising from Venus upward into the constellation of Aries. If it is the Zodiacal Light it'll be visible until about March 20 towards the west."