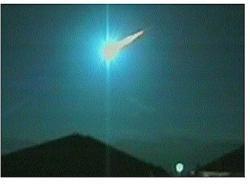 ©WBIR
Meteor photographed over Tennessee in January 2007
Numerous East Tennesseans reported seeing a bright green light streak through the sky Wednesday night. Police dispatchers said they got so many calls, they didn't have time to count them.
Reports on its direction of travel varied somewhat. Most accounts on its shape and color reported it being blue-green with a comet-like tail, and many callers to WBIR were surprised by the size of it.
WBIR's own Steve Phillips saw the light as he returned from dinner and said it was larger than he expected a meteor to be.