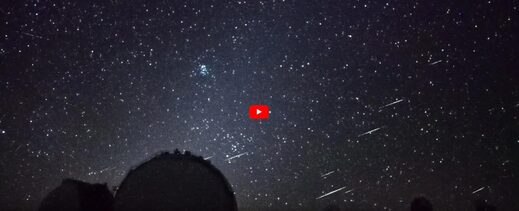 Subaru Telescope's "Subaru-Asahi Sky Camera" has been live-streaming the spectacular starry skies above Maunakea every day since April 2021 (Note 1). Hundreds of people enjoy the beautiful night sky above the Maunakea observatories every night.
In the early morning hours of July 14, the camera captured an unusual phenomenon in which
more than a dozen meteors streamed from the same direction in just 10 seconds
.
This is a rare meteor outburst event associated with a "meteoroid cluster." A meteoroid cluster is
thought to be caused by meteoric material breaking up into smaller pieces for some reason a short time before it enters the Earth's atmosphere
. This phenomenon provides valuable information about the structure of meteor bodies. Meteoroid clusters
are so rare that only a few cases have been reported so far since the phenomenon was first identified during the Leonid meteor shower in 1997
(Note 2).