Fire in the Sky
Comment:
You can read a report of this sighting
here
---
Gadi Schwartz and Matthew Kappus
KOB.com
Mon, 12 Oct 2009 17:20 UTC
Scientists think a fireball that flew over New Mexico may have been close enough to actually hit the ground.

A Santa Fe astronomer was able to catch the fiery streak on video. Thomas Ashcraft says the fireball didn't disintegrate when it hit the atmosphere. It may have landed somewhere near Taos.

---
The Grimsby space rock has been found.

A fragment of meteorite the size of a golf ball smashed in the windshield of a Grimsby family's sport utility vehicle on Sept. 25, according to a media release from the University of Western Ontario.
---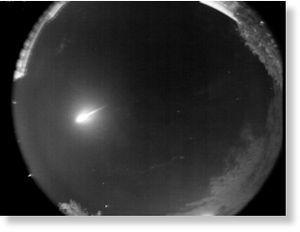 Space rocks formed when the solar system was created billions of years ago are believed to have fallen to Earth near Grimsby in a fiery light show two weeks ago.
Astronomers will be digging through farmers' fields Thursday and Friday on the hunt for hunks of a meteor that blazed across the skies of southern Ontario Sept. 25 shortly after 9 p.m.
The beachball-sized meteor was first picked up by cameras operated by the University of Western Ontario's physics and astronomy department 100 kilometres above Guelph as the fireball streaked southeastward at a speed of about 75,000 km/h.
Astronomers at the university have traced the meteor's path and believe chunks of it may have landed above the escarpment within a 10-km radius of Grimsby.
"We're pretty certain something came down," said Phil McCausland, a postdoctoral fellow with the university's astronomy department.
---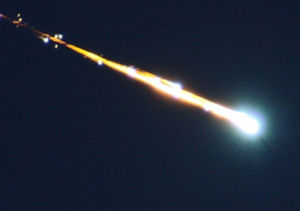 Hundreds of people report seeing a spectacular fireball or meteorite over the Netherlands in Tuesday's clear evening skies.
The police emergency number, Dutch coastguard and KNMI weather bureau report dozens of phone calls about the meteorite, which was seen in Germany and Belgium.
'I was standing in front of my window when there was a bright flash of light and a white fireball in the sky fell apart into three smaller ones,' eyewitness Erik Alberts from Zuidbroek in Groningen province told Nos tv. 'Like fireworks. A few seconds later, perhaps half a minute, there was a low rumble and the windows shook.'
---
mbl.is
Mon, 05 Oct 2009 16:43 UTC
A police dash-cam catches a fireball lighting up the sky in the south of Iceland

Translation of article:

The police in Selfoss caught these weird lights in the sky on tape shortly after midnight last night. The officers were going east during a routine highway patrol on Eyrarbakka-road when they noticed a spectacular flare which to them seemed to be heading to the river Ölfusá. Speculations are that this was a meteorite entering the atmosphere.
---
A Bosbury man who witnessed a strange light in the sky on Saturday night is wondering if anyone else saw the same thing.

Mark Beard saw the orange glow at around 9.45pm to 10pm as he was standing outside his rural home.

He said: "I was at my back door looking east, and to my left, appearing above the tops of houses was a large fireball, a tenth the size of the moon."

He said it was orange and moved through the sky for about two or three minutes in a north-south direction. It then slowly started to fade and then disappear, fading out before it had reached the horizon in the south.
---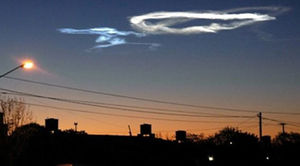 Yesterday afternoon the inhabitants of Mendoza, La Pampa, San Luis, and Cordoba saw a meteorite coming down the sky. It finally desintegrated with a loud explosion before it hit the earth.
The object, which initially scared the residents, was seen yesterday in the General Alvear Department. It could be a meteorite or space junk, but the place where it fell isn't known, according to what the Copernicus Institute said today.
From 18.30 there was a cloud in the sky and the explosion was felt almost by all people, asaid Julio Alcaraz, police officer of Santa Isabel, a town located 320 kilometers west of Santa Rosa and 40 miles south of the border with Mendoza.
The chief of the Copernicus Institute, Jaime Garcia, said that "by the color, it would apparently be a meteorite." He added that "the meteorite's location is unknown but according to the information collected it wouldn't have landed on Mendoza".
---
If it had hit Central London, Britain would no longer have a capital city. The force of the meteorite that hit eastern Siberia last September destroyed 40 square miles of forest and caused earth tremors felt 60 miles away.

An expedition from Russia's Kosmopoisk institute has only recently reached the site in a remote area north of Lake Baikal because of bad weather and difficult terrain, the Interfax news agency said yesterday.
---
Randy Alfred
Wired
Fri, 25 Sep 2009 09:47 UTC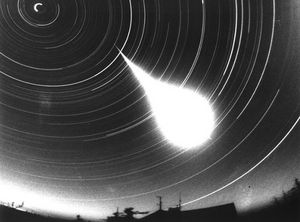 2002:
A large fireball flashes across the night skies of the Irkutsk region of Siberia. What may have been a comet causes electrical circuits to come alive and leaves residents worrying about radioactivity.
Eyewitnesses saw the sky light up. More than a hundred people in the sparsely settled area reported seeing it.
At least one person fell to the floor in horror, believing that some religious
doomsday had arrived
. Others were sure that nuclear war had broken out.
---