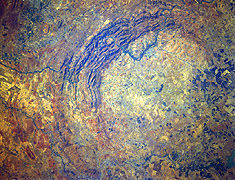 "What people saw last night was almost certainly a meteor," Claire Flanagan an astronomer at the Johannesburg Planetarium said.
People saw a bright "greenish, bluish" light heading towards Pretoria at about 11pm on Saturday night.
"It moved over the Gauteng Province towards Limpopo... it travels very fast and was about 90 kilometres up," said Flanagan.
The meteor was a hot topic of discussion in the forum on mybroadband.co.za.
"I saw a light flash the sky at about 8pm, at first I thought I was imagining it, but my friend also saw it," wrote someone who saw the meteor.
"... Maybe it's people getting abducted by aliens...I walked in the house looked out [and] the sky was lit. It looked how it normally [does] at 5am."