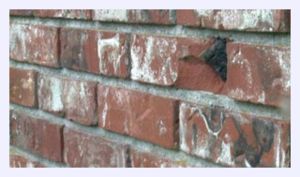 A Monroe man thought his house came "under fire" but instead found what he believed to be a small meteorite stuck to the side of his house.
We checked with the experts to find out what the likelihood is of a meteorite falling to earth and wedging itself into Greg Weller's home.
Weller said he noticed the dark charcoal substance for the first time on Saturday while he was gardening. "It looked like the brick just broke off, and there was something dark underneath it."
The night before, Weller says he'd heard what he thought were gunshots outside. Once he noticed the substance he started digging around, and began to suspect something a little more "out of this world."
"I looked up some stuff about meteorites and found a magnet and stuck it to it... And they said that's a test right there. And the more I read, the more I was sure it was a meteorite."