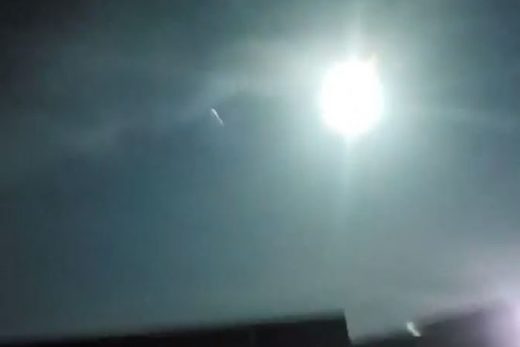 A fireball meteor — possibly as small as a tennis ball — has burst into the Earth's atmosphere causing a flash of light and a sound "like thunder" over Tasmania and Victoria, causing some to fear the worst.
The object flew across the horizon just before 8:30pm (AEST), with videos being shared by excited eyewitnesses in both states.
Adrian from Mole Creek said he saw a vivid light and heard what "sounded like thunder".
"I was outside and it was all nice and dark and suddenly the backyard lit up, like a helicopter going over with a spotlight, quite low," he said.
Dominic McAlinden said he covered his ears, expecting an explosion.
"Night turned to day, and a blue-and-white streak turned red and orange as it burnt up," he said.
Victor was behind the wheel on the Bass Highway in northern Tasmania when "just out of the corner of my eye to the east I saw what appeared to be like a skyrocket shooting down to the ground".
Hazel, in Penguin on the northern Tasmania coast said "it lit the whole town up".